26 October 2017 | Автор: Николай Горшков
EVERYONE is talking about this: the IT giant goes to ICO!
Don't miss the opportunity to solve your financial issues at the ICO of a large company. Pre-sale is started, and it is very profitable to take part!
The new "blue chip" comes into the ICO market.
Actual only until November 13 on the Pre-sale stage!
This is Gem4me. This is secure premium-class messenger that integrates the latest technologies: fintech, bots, «conversational commerce», Marketplace, MakeMoneyBot, and advertisements. Messenger is created on crowd investing basis.
The First Monetary Messenger:
Now it is on the final stage: the product is completed more than 90% and working. Capitalization is not later than 1-1.5 year, expected value of the app is $12 billion.
Take a look and decide for yourself: do you need this?
✅ The project has a strong developers team, that created and sold Viber to japanese Rakuten for $900 million in 2014, and also gaming platform Playtika to China for $4.4 billion;
✅ High-tech product; WhatsApp and Telegram are less in functionality;
✅ Close cooperation with Google to promote the messenger;
✅ There are already interested investment funds that are waiting for the completion of the messenger development;
✅ Currently there are 3.5 million of the messenger's users worldwide;
✅ Evaluations of the application are done regularly by independent audit companies, including companies of the BIG-4;
✅ The current value assessment is $86,7 million;
✅ And the most important: for each share purchased, investors will receive min. $3000 after the application is sold.
So, there is no question: "Will there be success or not?" The only question is "How soon?"
The capitalization has very specific figures and deadlines. Everything is going according to plan.
In the beginning of December 2017 Gem4me goes on ICO. It is the final round of funding for completion of the basic functionality + the launching of 2 new super-profitable services: the international cashback service and digital bank for crypto/fiat currency exchanging. Top ICO-experts are delighted, because up until today, almost everyone is collecting money for ideas, but here comes the machine, which is already 90% ready.
⏰ In this regard, only until November 13 there is 10% discount on all packages, +5% bonus tokens for all packages and +10% for the maximum package. Speaking by the words of the stock exchange, the "blue chip" comes into the market. I'm sure it's extremely stupid to miss this opportunity.
Also, all tokenholders will receive regular lifetime passive income from the messenger's financial services.
Presentation from the Board of Directors of Gem4me Investments Plc.
If everything is clear and you want to succeed - here are the prices:
Go package: €135 / 2 shares / €6 000 profit = 4444%
Biz package: €405 / 6 shares / €18 000 profit = 4444%
Premium package: €1215 / 18 shares / €54 000 profit = 4444%
Invest package: €3240 / 54 shares / €162 000 profit = 5000%
I have the Invest package. Starting. We open the countries.
Huge international teams joins the project.
Contact me via my Facebook or Skype: business-perm. I will send you 2 videos that will answer all questions!
Actual only until 13.11.2017. Act Now!
blog comments powered by

Disqus
Download free messenger Gem4me and earn with it!
Gem4me: the Messenger of Your Success!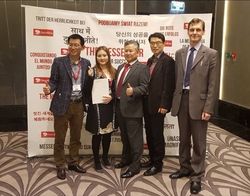 Kaori Yoshida, Japan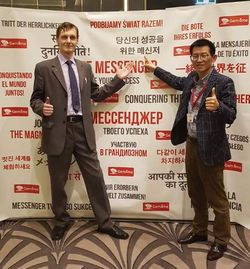 Won Hyung Park, South Korea
Bharat Karnani, India

Tomasz Zarnecki
(Poland), Slobodan Sekicki (Serbia),
Andrzej Pluta (Poland), Nikolay Gorshkov (Russia) - international Gem4me Leaders!
A vizit to the office of Gem4me application developers - Synesis company at Minsk, Belarus.
GEM4ME Business worth billions!!! 2017
GEM4ME: 2 million users!